My fascination (obsession) with Chesapeakes began with a stop at the Anchorage, Alaska dog pound in 1972! I popped in to "look" and came out with a wonderful big, red male dog called "Bonner". I was told he was a Chesapeake Bay Retriever and should be a great gun dog. He had been running with a pack of wild dogs and came when the dog catcher called. I took him home to my "pack" and he endeared himself immediately by lifting his leg on my neighbor's yappy, freshly groomed toy poodle. We were off!
I looked up everything written about Chesapeakes (very little at the time) and called everyone who had retrievers and found my pound dog's breeder, Sue Martinuik in Tok, Alaska. It seems "Bonner" was really "Banner". He had belonged to a serviceman but had been let loose upon his owner's transfer to another post. Lucky for the both of us. "Banner" was such a nice animal that I knew I had to have another one (and someday MANY more). Sue just happened to have two li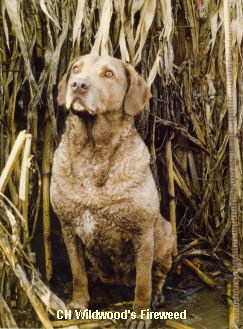 ttle females to show me. They were both cute and playful but the choice was made when one disappeared into the six-foot high, flowering fireweed plants and returned with the old rotten pigeon she had carried off a few days earlier. Hence her name and onward.
I hunted "Fireweed" that fall at the ripe age of 4 months and she never missed a season in her 14 years. She developed into a powerful retriever, well respected in the hunt areas all over Oregon, and "if only" I had known more, I feel her field trial career would have been more advanced. As it was she finished her bench championship easily, including three group placements en route and made all the working dog titles and placed in the qualifying. She was bred three times to FC AFC Aleutian Surf Breaker, producing FC CFC Fireweed's Aleutian Widgeon from the first breeding; Dual CH Fireweed's Jasmine from the second and Ptarmigan, WD from the third. "Ptarmigan" died very young from inhaling a foxtail but had shown all the qualities to follow her older siblings' footsteps. She had passed the Working Dog (WD) tests at 12 weeks but was not given the certificate because of her young age.
"Widgeon" was my first FC; he was big, powerful and reckless. He was hurt many times and had a shorter career than most because of the injuries. However, he still won his share of all-age stakes in both the U.S. and Canada, including a Specialty double header, and ran four Nationals. "Jazzie" was sold to Carol Andersen at the age of two and went on to become the first dual champion bitch in the breed. Both these dogs have been great contributors to the modern field trial Chesapeake.
I have had the privilege to own and/or train other great Chesapeakes. All-age dogs such as "Widgeon's Raisin' A Ruckus", "CH Widgeon's Bedazzlin' Sunshine", "Widgeon's Sunshine Traveler", "Jeffer's North Star Smuggler, MH", "Smugglin' Premium Mink", "FC CCs Diamond Dex" and one of my favorites "Minkie" (Misbehavin' Mink) queen of the open seconds! One of the breeds all time greats, "Dual CH AFC Coot's Gypsy Clipper, MH" (the first of two retrievers to hold all four titles) spent 10 of his 12 years with me at trials and at home. I was lucky to have his and Minkie's daughter AFC Clipper's Genuine Mink "Gennie" guiding me through life and I now have two of Gennie's daughters with me.
Fireweed Chesapeakes' successes have much to do with partner Tom Ivey. Our relationship started when Tom began looking for a field trial Chesapeake in the mid-80s. When his first dog did not meet our standards, he took my advice and purchased "Clipper" from Harry Cody. A great dog's career and friendship began. Tom has been a great enthusiast of the breed since 1971 and became a partner in Fireweed Chesapeakes when I returned to amateur status. We now co-own our field trial dogs. Both Tom and his family continue to support the breed in its field trial endeavors. His valued friendship and partnership has allowed us to expand our breeding program and field trial commitment.